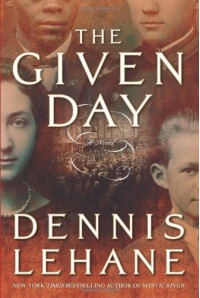 A fictionalized account of the Boston police strike of 1919.
Dennis Lehane's novels always deliver tense plots and compelling characters. In The Given Day, readers are introduced to two characters, an Irish police officer and an African-American baseball player/day laborer, whose stories begin apart and then come together in a wonderful way. Both characters are seeking to make up for terrible mistakes they've made in their pasts.
I was very ignorant of the events described in this book, but Lehane did a great job of educating me. The history was complicated, but fascinating. The tragedies of these events will live a long time in my mind.
The one criticism I had with this book is that, given their situations, the men's stories ended a little too neatly for me. Also, there were sections of the book where the pace dragged a bit. I could have done with a hundred pages less.
The Given Day, however, was a fascinating read, and I would highly recommend it.