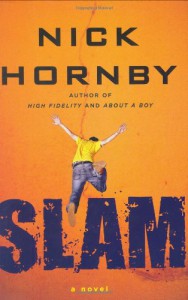 When fifteen-year-old Sam gets his girlfriend pregnant, he is whizzed into the future by his idol, professional skateboarder, Tony Hawk. What Sam learns determines how he deals with his status of a new father.
As a long-time Nick Hornby fan, I was disappointed in this book. Although the characters were intriguing, and the dialogue was snappy, the plot wandered in circles becoming, at times, so ridiculous, that it was difficult to read on. "Slam" was like a combination of an episode of MTV's "16 and Pregnant" and the movie, "Back to the Future", only without the epic drama or exciting special effects.
The book is a quick read and, at times, very funny; however, it did not bring anything new to the topic of teen pregnancy or the secret lives of teenagers.